MatissEquipment
Welcome to MatissEquipment's presentation page.
The organization focuses on the development of mechanical and robotic equipment for industries who are automating their operations.
Matiss featured videos
Discover MatissEquipment, a dedicated automation and robotics enterprise in the agro and industrial field.

MatissEquipment, a division of the Matiss company, presents its range of ultrasonic cutting equipment: Matissonic
Ultrasonic blade cutting for a remarkable presentation of your products
If you have problems with your conventional cutting technique, such as food constantly sticking to the blade, low cutting speed, and a cut that is not as clean as you desired, you will definitely find a solution from the Matissonic product line. Whether it is for your pastries, granola bars, cheeses, deli meats, or prepared meals, your cut and size quality will be upgraded.
Our expertises
MatissEquipment offers innovative and customized solutions that will meet your needs. Discover how our expertise, combined to yours, can speed up your production.
Robotics solutions
MatissEquipment designs robotic solutions for companies seeking to improve the automation of their transformation process.
Custom manufacturing
MatissEquipment presents the techniques used to design equipment that meets the specific needs of a particular process.
Mechanical and
electrical engineering
MatissEquipment demonstrates its design and engineering expertise through the work of its skilled engineers.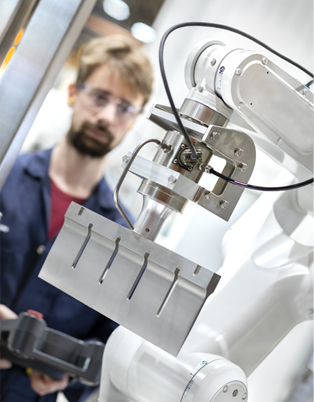 BUILD A CAREER AT MATISS
A team passionate about technology!
Our strength lies in the diversity and complementarity of our work. As you will find out, there are many different specialized jobs at Matiss. Together, we design, manufacture, and deliver systems that allow our customers to become more competitive.